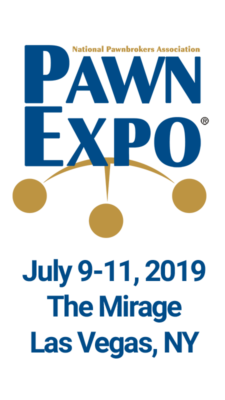 What is Pawn Expo?
Pawn Expo is the only national convention and trade show for the pawn industry. Hosted annually by the NPA in beautiful Las Vegas, Nevada, Pawn Expo offers education sessions, special events, and a trade show featuring over 100 companies, all designed to help new and veteran pawnbrokers strengthen and grow their businesses.
What began as a simple gathering of NPA members has grown into the largest and most comprehensive pawn industry convention and expo event in the U.S., bringing pawnbrokers, industry partners, and companies from around the globe together in one convention. Attendees leave energized and equipped with the latest industry knowledge.
Click Here to Check Out Pawn Expo
LEARN
Pawn Expo 2019 offers 16 educational sessions.
EARN
Opportunities are available to meet with over 20 diamond buyers and compare options to sell your diamonds. Visit over 100 vendors at the trade show.
NETWORK
Connect with hundreds of your fellow pawnbrokers at various social events during the convention.
CERTIFIED
Start or continue your journey to become a Certified Pawn Professional. Courses are offered the day before Pawn Expo begins.